OLD ROSE DANDY (Chris Laning), Sept. 1993. No seedling number. This is a lutea hybrid - parentage P. lutea pollenated by a purple double flower, pollen of suffruticosa seedling. This plant is very big and robust of dark green color. The flowers are very heavy double of old rose color which intensifies (darkens) with age (unusual color). It drew a very good response at the 1993 Show and received an Award of Merit. Bulletin #287. Sept., 1993.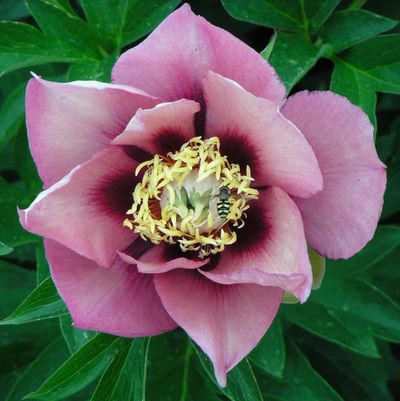 Old Rose Dandy (Chris Laning, 1993) Brick-red, single, midseason, 32" tall, intersectional. A fast increasing plant with delightful brick-red flowers. Lovely landscape plant with robust dark green color.

Old Rose Dandy (Laning 1993) Midseason-Late midseason.  Best Landscaper  Single, petals yellow-beige, with purplish rose blend at opening, the hues reminiscent of some hellebores.  The purplish pigments pale as the flower matures, the underlying color remaining to petal fall.  Prolific bloom, many four-inch, star like flowers cover the medium low, rounded bush and smallish, dark green leaflets—very harmonious.  Item 1960.