Seeds from Josef Halda's collection 2003
Josef Halda
PO Box 110
501 01 Hradec Králové 2
CZECH REPUBLIC
Dear friends
please find below the 2003-2004 list. As usual, you' find a number of new and wondrous species
Orders will be processed in the order of arrival.
NOTA BENE: Unless otherwise indicated, packets contain 20 or more seeds, up to 100 in some cases. We will ship orders from this catalog beginning November 3. until February 20. 2004
Please indicate if you would prefer alternatives or in the event that we run short of an item. Seed of the same
species from a different locality will be substituted when available. We do not issue credit - please indicate alternatives.
Order early to avoid dissappointment. Please order by catalog number (1-242) name and price, on the enclosed form. Include our order form or a duplication thereof lor all orders of any size.
Payment must accompany order and is acceptable in US or Western funds. (No eurochecks, please). Cash will be accepted, but please in the registered mail. For cash we give discount 10%. We offer quantity incentives as follows:
$ 50-100 - Free Shipping
$100-200 - Free Shipping + 5% Free Seeds
$200-300 - Free Shipping + 10% Free Seeds
$300- UP-Free Shipping + 15% Free Seeds
Please notice that it is not a dollar discount, so be sure to include a list of species that you would like as your free seeds. If your order qualifies for free seeds and you have not given us a list of your choices, we will send you free seeds of our choice. We will try to guess what you would like from your order. If you share- our enthusiasm about these wonderful species, please show this list to your friends or duplicate il for them!
Thank you for your ordering!
Hope your winter has been good and you have appropriately whetted your apetite for more wondrous seeds!
Happy New Year! Josef Halda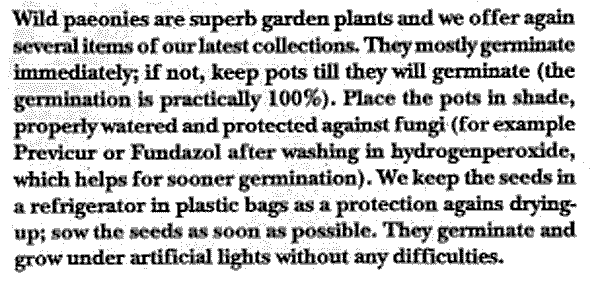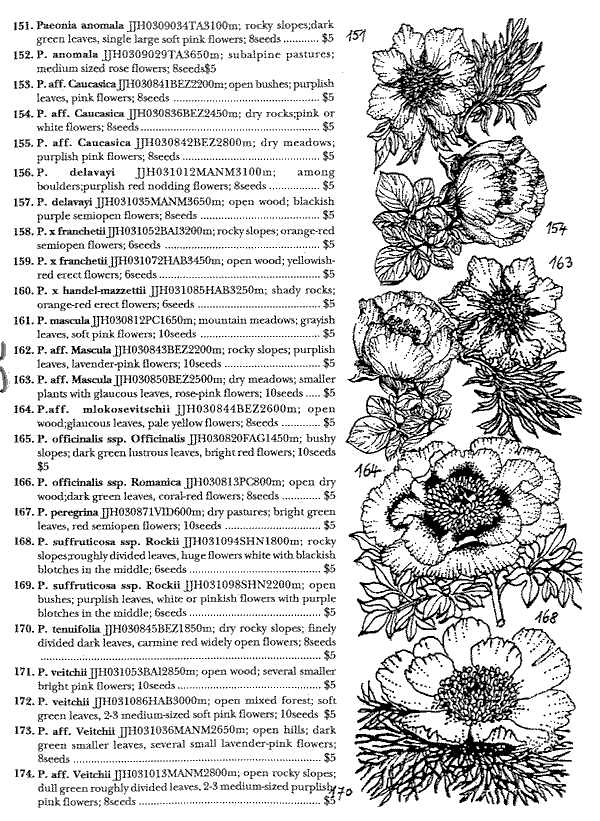 | | |
| --- | --- |
| ALIB | C.Caucasus (Alibek) |
| ALT | Russian Altai |
| BAD | Tadjik Badachschan |
| BEL | Altai (Belucha) |
| BRAS | Romania (Brasov) |
| CAL | Romania (Calafat) |
| DOMB | Caucasus (Dombaj) |
| FED | Tadjik Pamir (Fedtchenko Glacier) |
| GUI | W China (Guizhou) |
| HAB | SW China (Habashan) |
| ING | Ingus Caucasus |
| KART | Caucasus (Kartli) |
| LEN | Kirgiz Pamir (Pik Lenin) |
| MAG | NE Turkey (Magara) |
| PAL | E Turkey (Palendoken) |
| PIAT | Romania (Piatra Craiului) |
| RILA | Bulgaria (Rila Monastery) |
| SICH | E Siberia (Sichote Alin) |
| VID | Bulgaria (Vidin) |