PEONIES, The Manual of the American Peony Society, ed. by James Boyd, Copyright 1928 by American Peony Society: Tree Peony Check-list.
Capt. James Prendergast, of the Hope, brought plants from China.
Papaveracea. (originated in China—Prendergast-Hume, 1802.) offered by Seneclauze 1846. (For other varieties of Papaveracea see first letter of second name.)
In 1802, Capt. James Prendergast, of the Hope, brought from China, for Sir Abraham Hume, of Wormelybury, another plant which bloomed in 1806. This was a single white (on old and strong plants sometimes semi-double) 10 inches or more across, with large purple spots at the base, and was named papaveracea,18, 21 not on account of its resemblance to the flower of a poppy but because its germens, when enveloped by their membranous covering, resemble a capsule or seed-vessel of the common Papaver somniferum. Botanists of that day considered this to be the true species and gave it the long name of Paeonia Moutan papaveracea, making the two previously imported plants P. Moutan papaveracea Banksi, and P. Moutan papaveracea rosea, and for thirty years or more all tree peony
230
MANUAL OF THE AMERICAN PEONY SOCIETY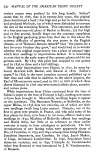 variety names were prefixed by this long handle. Sabine18 states that by 1826, that is in twenty-four years, this original plant had formed a bush 7 feet high and 40 feet in circumference, and produced 660 buds, 130 of which were disbudded to increase the size of the remaining flowers. This statement, and another of a fourteen-year-old plant of Banksi at Henley, 5 feet high and 27 feet around, hardly bears out the constant complaints in the English gardening press from that day to this about the extreme difficulty of growing the tree peony in the English climate, or of Watson's famous remark23 that "the plants die a foot for every 6 inches they grow," and would lead us to wonder whether this original papaveracea was a plant of unusual vigor which later seedlings or importations lacked. It is interesting to note that in the early years of the century, plants sold for ten guineas each. By 1825 this price had dropped to one guinea and by 1836 to three and a half shillings.
P. suffruticosa Andr. cv. 'Papaveracea' in Bean, Trees and Shrubs Hardy in the British Isles (8th ed.) 4: 81 (1976).
Syn.: P. papaveracea Andr., Bot. Rep. 7: t.463 (1807). Type: the plate cited.
P. suffruticosa Andr. var. papaveracea (Andr.) Kerner, Hort. Semperv. 5:1.473(1816).
Leaves with 9 sharply-pointed leaflets, terminal leaflet trilobed (Fig. Ib), flowers single, petals white flushed pink, blotched with reddish-purple at the base, sheath enclosing carpels purple, filaments purple throughout their length.
Cult. spec. from garden of Major A. Pam at Wormley Bury, Herts. (K); cult. spec. from garden of Mr D. Parsons, Broxbourne, Herts., 5 v 1989, S. G. Haw 89-001 (E); cult. spec. Herb. Hookerianum 1867 (K): cult. spec. from Jardin de Cels, Orangerie, 18 iv 1822, Herb. J. Gay (K).
Known only in cultivation; the plant on which the type specimen (the plate in Andrews, 1807) was based was introduced by ship from Guangzhou to the garden of Sir Abraham Hume at Wormley Bury in Hertfordshire in 1802.